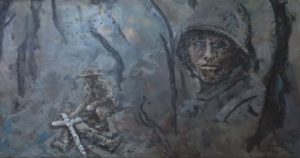 I'm continuing with the dark fantasy WWI short-story genre and am almost done with a short story collection. I am making artwork for it that fits into the dark WWI fantasy genre. This encaustic painting I did is called "Kneeling in the Silver Light." It's related to my short story in the Anthology with the same title. Encaustic paints are a combination of beeswax, damar resin, and pigments which requires a hot palette to melt the encaustic.
I'm also reworking a WWI novel manuscript called A Letter From Home.
Recent WWI Publications
"Ghost Dog," CCQ an EMP publication. Ed. Jennifer Word. April, 2016.
"No Man's Land,"  Enter at Your Own Risk: Dreamscapes into Darkness, Firbolg Publishing, April 2015.
"Unknown Soldier," Kneeling in the Silver Light: Stories from the Great War. Horror/Dark Fantasy Anthology, Alchemy Press, 2014.
"Coffee Break on the Western Front, 1918," in Something's Brewing, Kind of a Hurricane Press, 2014.
"The Leviathan," Stonecoast Lines. Stonecoast MFA Publication, University of Southern Maine. Summer 2012.