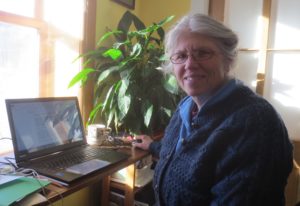 Nancy J. Hayden
3727 VT RT 15
Jeffersonville, VT 05464
nancynorthwindarts@gmail.com
I am a writer, artist, organic farmer, and lifelong learner living in Northern Vermont. I retired  a few years ago an environmental engineering professor so I could spend more time on writing, in my studios, and on the farm. I feel blessed to live on our biodiverse organic farm, The Farm Between, in such a beautiful place and have the opportunity to pursue my creative interests whether it's digging in the dirt, writing, or making art. I have a variety of different degrees starting with a BS in forest biology, an MS and PhD in environmental engineering, a BA in studio art, a BA in English, and an MFA in creative writing. This diversity of interests and education has been wonderful to draw on for my work, and I never run out of ideas.